Change Gears in the 2018 Toyota Corolla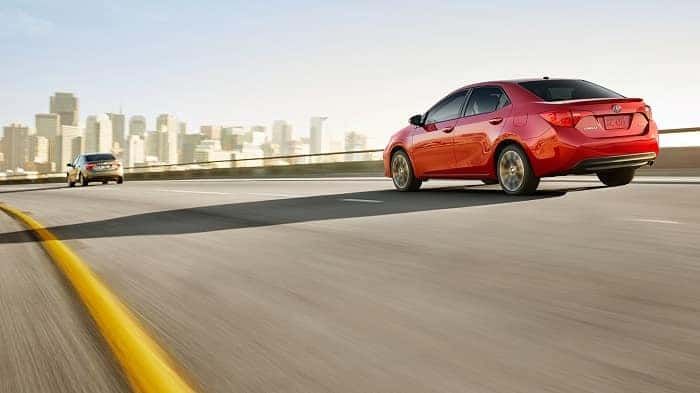 We love giving you choices here at Midtown Toyota in Chicago, IL, even among single car models like the 2018 Toyota Corolla. Not only does the 2018 Toyota Corolla offer you several trim choices, it also gives you the option to choose from two different transmissions. So let's talk a little about car transmissions!
A manual transmission features a gear shift lever and a foot operated mechanical clutch, to allow you to engage the proper gear to apply the car's engine power to the drive wheels. It's often the first choice of driving enthusiasts because it requires more involvement in the driving experience.
An automatic transmission takes the chore of shifting gears out of your hands, using clutches, gears, and a torque converter. Automatic transmissions are the most commonly used gearboxes in most cars and offer a more relaxed driving experience.
A Continuously Variable Transmission (CVT) does not use traditional gears. Instead, it uses pulleys and belts to continuously vary the transmission's drive ratios to deliver engine power to the wheels.
The 2018 Toyota Corolla comes equipped with a smooth and refined, intelligent CVT that provides excellent performance and terrific economy. The 2018 Toyota Corolla also features optional shift paddles that give you more control of its performance.
And for an even more engaging driving experience the 2018 Toyota Corolla SE is available equipped with a six-speed manual transmission, the ideal choice for drivers who wish to enjoy a high performance, sporty driving experience in the 2018 Toyota Corolla near Oak Lawn, IL, and the areas we serve, that and involves and immerses them even further.
You've got lots of choices in the 2018 Toyota Corolla! And whether you're interested in one of the many trims available, from the attainable 2018 Toyota Corolla L to the sporty and well equipped 2018 Toyota Corolla XSE, your choice of a CVT or a manual transmission, you'll find it here at Midtown Toyota. Stop in to check out the 2018 Toyota Corolla today!